When I initially inquired of the principals of the high-end apparel vendors and the directors of the better known clubs who I should be interviewing that provides top notch haberdashery service and product to their members, Cary Cozby's name came up in every conversation. Cary was an assistant golf professional at Southern Hills Country Club from 1995-2000, prior to which he was an assistant at Oak Tree Golf Club from 1993-1995. Cary played collegiate golf at the University of Oklahoma 1987-1992. He was a PGA Professional at Wichita Country Club starting in 2000 and added CEO responsibilities to his workload in 2005. Cary has since returned to Southern Hills as Director of Golf and was recently selected as the South Central PGA Golf Pro of the Year. This interview is a re-posting of a couple of years ago but I thought a re-posting appropriate with the award inspired video (click here).His reputation among the leaders of the industry is always described in superlatives.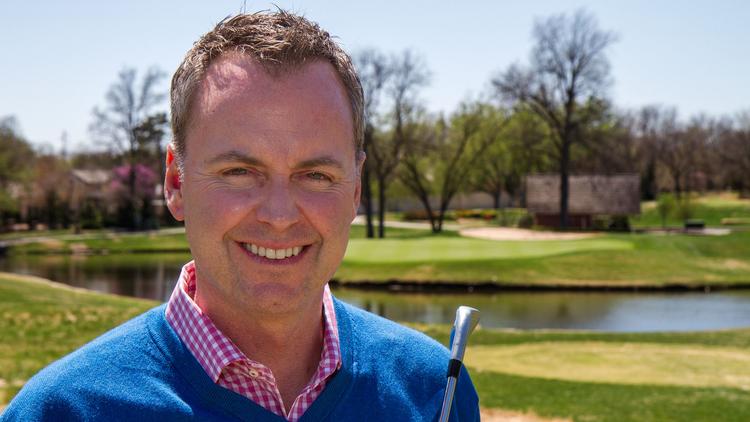 Cary, you have described service as a first commandment of your job title. I am often asked to define service as I speak of it often as a differentiator. I have taken to giving the short answer that exemplary service is service that members and guests leave talking about. I would be interested in your definition.
It would be hard to improve on defining exemplary service as exactly that, something that leaves members and guests talking about it. A couple of comments to add to your definition. Great service is not simply adding staff. We work hard at communicating not just how to do a job but why. "The why" provides a complete understanding and, thus, makes everyone think, which leads to being engaged with everyone we come in contact with during the day. Once a staff member completely understands their role, they can then begin to provide great service.
We talk a lot about anticipation of member needs and also track member preferences: brands, sizes, beverages, etc. We stress the details, and our goal is to have the answer before the question…we also plagiarize the best we can from other facilities or anyone else in the hospitality business. It is the main differentiator in any business, especially the golf industry. We are all selling the same product so why should someone buy from us? Providing a great training program and developing a staff that owns the operation is vital for our success. It takes everyone pulling on the same side of the rope to deliver great service.
Often programs are put in place to enhance service that creates sales and in some cases whole new categories of sales. Have you instituted any such programs?
One of the programs we have recently put into place and coincidentally plagiarized is our "standards testing," courtesy of the Four Seasons. This program is used on our Outside Service Staff and begins once they have completed their initial training. The test consists of various components, but the main focus is on member interaction/communication, verbal and non-verbal.
Inside the golf shop, we have increased sales by working the corporate angle with our membership. It has really grown and we have found they would rather do business with us than an outsourcing company, and, typically, we beat them on price and definitely on service. We have also expanded into carrying some tennis and fitness apparel, and this has helped steer new traffic into the golf shop. Obviously, once we get this group into the golf shop for the first time, we have the opportunity to make them customers.
The service cultures that you have built require focused leadership and training. Comment on this if you would.
Absolutely. On leadership and training, everyone here is expected to bring something to the table and make the operation better. Inside the shop, the expectation is that everyone should conduct themselves like a head professional and look at the operation from a 360-degree viewpoint. It is something we discuss on a daily basis, mostly on an impromptu situation and not a scheduled part of the day. The word "professional" is taken seriously and something we must earn by how we conduct our business.
Our outside service staff is encouraged to make decisions, and we inquire of them how we can improve service and/or efficiencies within the operation. They always have great ideas that make us better and our operation today is a result of 12 years worth of melting ideas from assistant professionals and our outside staff.
Everyone can be a leader; you do not have to have a title to make a difference.
Vendors should play an important role in the training of staff both in terms of product knowledge and salesmanship. What is your experience with this and your mode of enhancing partnership with those you do business with?
This is an area in the golf industry that has plenty of room for improvement. In the past few years we have asked a few of our key partners to come in after-hours for a product review with our staff. This helps us learn the details about the products we carry and discuss the message we want delivered to the membership. A little extra work equals a win-win for us and the vendor. Too often, representatives make their pitch and sell and do not follow up to check on sell-through, which is significantly more important than anything. When we meet with a rep, we have not only what we brought in last year but what we sold, which includes markdowns. It sure makes it an easier conversation if we are eliminating or downsizing what we buy.
Being comfortable with communicating the products we carry is the key and develops a level of confidence among the staff, which leads to sales. The vendors play a key role in the development of this knowledge and something each of us should expect from our vendor partners.
Obviously it's early in the season to gauge the success of anything new, but what is the latest sales/service project that you have instituted that you are most excited about?
Well, not anything earth-shattering so far, but it has been enjoyable to watch our staff develop into a great team. We are in our second season with our current staff, and they are terrific. They really understand the importance of wearing all of the hats we must wear and possess a servant's heart. First class and great service are fad-proof, and I think that is proved in every industry every day.
An important part of genuine service is follow-up. Do you empower your staff in regards to this and/or have specific tasks or follow-up programs in place?
Similar to what we mentioned about our sales representatives, making sure our membership is happy with their purchase is vital for future sales. Each morning I go through the previous day's sales by reviewing each individual ticket. This allows me to get a feel for every single item we sell and who is buying. Additionally, I personally write a "thank you" not to everyone who makes a purchase of a certain dollar amount, and by doing so it sticks with me to inquire with the members when I see them at the club. We get a lot of positive feedback from this small gesture and believe this is a key component to loyalty amongst our membership. We do follow up with everyone who purchases new equipment with us to make sure they are enjoying their new clubs. Typically this is done by the professional that fit them or the one who is their instructor.
Cary, I really appreciate your time. What would you like to add to this conversation, particularly considering that you are seen as one of the top Haberdashers?
If you would like to maximize your sales potential, look at your shops as a haberdashery and carry much more than the normal golf attire and equipment. We would do about 70 percent of what we do in sales if we didn't offer lifestyle pieces for men and women, specifically during the non-golf part of our year. Over time, we have been able to get our membership to shop here first and expect to see much more than just golf attire in our shop. Our golf shirt sales diminish following Labor Day, but we sell a tremendous amount of sport/dress shirts, sweaters, jackets/outerwear and trousers. In addition, we have branched out to have a tennis and fitness area in our shop and have been able to create sales with our non-golfing member.
We trust delivering great service to our membership creates a difference between us and the next guy.
The economic climate over the last 3-4 years has been difficult for all business, but, for some, problems are viewed as opportunity. As the service and availability of better product becomes increasingly scarce in other retail channels, the prospect clubs have to provide the best of both to their members is a natural. Cary Cozby obviously sees this as not only an opening but a fundamental part of the job.